Picking Social Media Hashtags for Better Content Discoverability
We live in an era where every time we open our smartphones, we're inundated with messages and updates from our social media platforms. But too often we get caught up in the never-ending stream of feeds, tweets, and posts and we don't take the time to take back the reins and make our posts more visible and discoverable by using social media hashtags.
Originally popularised by Twitter, hashtags have become such a powerful tool that they have made their way to pretty much all other platforms now. Their core purpose lies in helping curate the vast amounts of content that is published on a regular basis on social media. But in doing so, they also offer an incredible opportunity for marketers and business owners to better approach their desired customers.
Hashtags are a great way to help you organically reach new audiences on social media. They can help your content get discovered by people who aren't following you, in addition to helping you reach users who are actively looking for info on a certain topic. In some cases, hashtags even help you reach a broader audience than your own followers, which can mean a whole new set of eyes on your content.
And considering just how important this role of hashtags can be, especially when it comes to SMEs looking to approach a larger audience, we believe it is vital to shed more insight on the topic. So, without further ado let's take a closer look at some tips for social media hashtag success:
Social Media Hashtags for Your Audience
As is the case with any inbound approach, the first step in picking the right hashtags starts with a deeper understanding of your audience first. Why? Because it allows you to focus on the ones that are most relevant for your customers. In doing so you will be able to reach not just anyone, but those who are highly likely to be a match for your business.
A great first step into that is to devise buyer personas, or simply put customer archetypes. These should be based primarily on data with the gaps being filled with educated assumptions. Some of the most commonly used categories for a persona are background, goals, challenges and a how we help section. Let's take a closer look at the example below and search together for things we can use during hashtag selection:
Example Analysis
Starting with the background section we can see that the archetype is currently occupying a marketing role in the software and technology industry. Even having as little information as this will be helpful, as with it we know the general direction our hashtags will be heading. At this point #marketing, #saas, #martech and #digitalmarketing seem to be good starting candidates, but let's dig further.
Looking at the personas goal, we understand that they are likely focused on sales enablement, or in other words on lead generation. This in turn brings ideas such as #leadgen and #growthhacking into the mix. On the other hand, examining their challenges of improving conversion rates with relevant content suggest adding #conversions and #contentmarketing for example.
Now before you jump to conclusions, it is important to note that the hashtags above are by no means final. Even if you can apply them to your messaging already, they are above anything else guide stones for further optimisation. To truly be successful, you will need to continue going down the rabbit hole as we will find out in the upcoming chapters.
Social Media Hashtags Competition
Like any search term, hashtags bring not only content curation, but competition as well. The more popular a particular tag is, the more other businesses are present there looking to capitalise on it. This means more content pieces are put into the cycle, with the most recent and engaged with ones pushing your posts deeper into no-man's land.
Taking the lesson into consideration would naturally incline you to think that uncommon hashtags are the way to go, but the reality is more nuanced than that. As with pretty much anything in life, the secret lies in having a balanced approach by following the golden middle. This means focusing mostly on less competitive variants as an alternative to overcrowded spaces. But that's just the start.

Let's compare the four most general hashtags we derived from our sample buyer persona earlier. And don't worry, we will share with you the tool we used to extract the data in the example above. From the extract we see three main factors – results, engagement and potential reach. The first refers to the number of posts found for a specific timeframe, the second the total engagement generated, i.e., likes, shares and clicks, while the latter shows the potential audience you can reach.
Example Analysis
The results section will give you a basic idea of how populated, or competitive a hashtag is. In our example #marketing tops the chart, housing more than 110 000 tweets in the last seven days. When it comes to the others, #digitalmarketing is second with 66 000, #saas with 9 500 as third and last is #martech with 2 600. This means that the competition is highest in the same order, so going for the latter two options seems most fitting.
Next factor is engagement and the higher this number is the better. Ideally you want to use hashtags with good engagement, so your content can potentially generate more likes, shares and clicks. Considering what we learned from the results section, we can see that #marketing is roughly 40% more populated than #digitalmarketing, yet generates 60% more engagement, when comparing the two. This shows a slight advantage of the first over the latter.
Last is potential reach, which gives you a better understanding of the number of people your post can reach should it gain traction. Let's compare #saas and #martech this time. The former bears roughly 73% more results, 22% higher engagement, but most importantly brings a bonus of 99% further reach. This is a huge advantage, making it obvious that the first hashtag will be more beneficial to you by far.
Tools for Social Media Hashtags Research
Doing hashtag research without any tools by your side is an unnecessary struggle. You don't need to reinvent the wheel and spending countless hours trying the count things manually makes no business sense whatsoever. And thankfully there are plenty of useful tools you can use to your advantage, both free and paid. To aid you in your quest, we will share with you some popular options to leverage.
TalkWalker
Our top mention for the list by far is TalkWalker. It is a free tool that offers you the greatest amount of insight by allowing you to compare hashtags according to the three factors mentioned earlier. There you will also find other vital statistics, such as general sentiment, while providing filtering functions for demographics, devices, languages, media types and countries. This granularity can be a life-saver when it comes to making informed choices.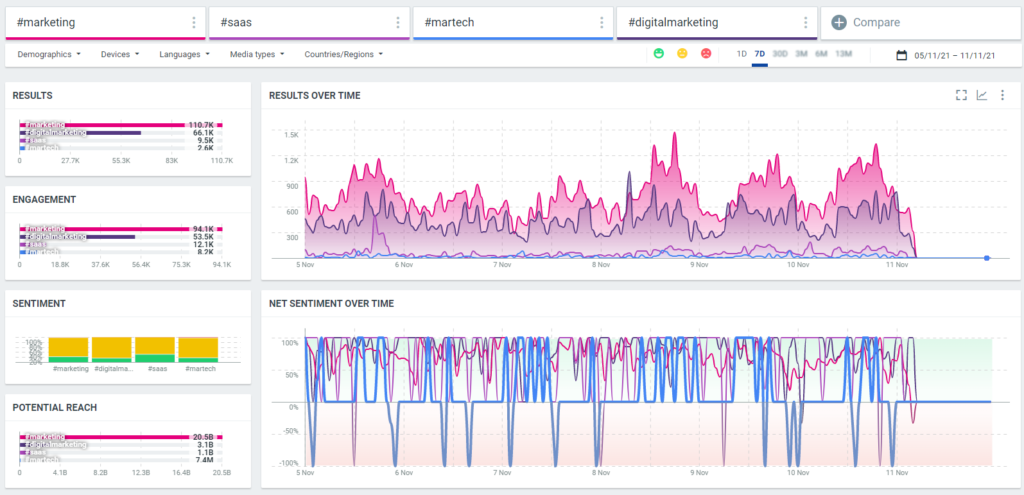 Hashtagify
Second would be Hashtagify. Like TalkWalker, it offers its functionality for free, but it is limited unless you opt-in for a paid plan. Hashtagify won't offer you exact data like number one on our list, but instead lists a rating for factors like general and recent popularity, as well as changes in them over time. Even so this can be quite useful for less data-savvy people, who are looking to get a decent view on the subject without having to do further analysis on the numbers.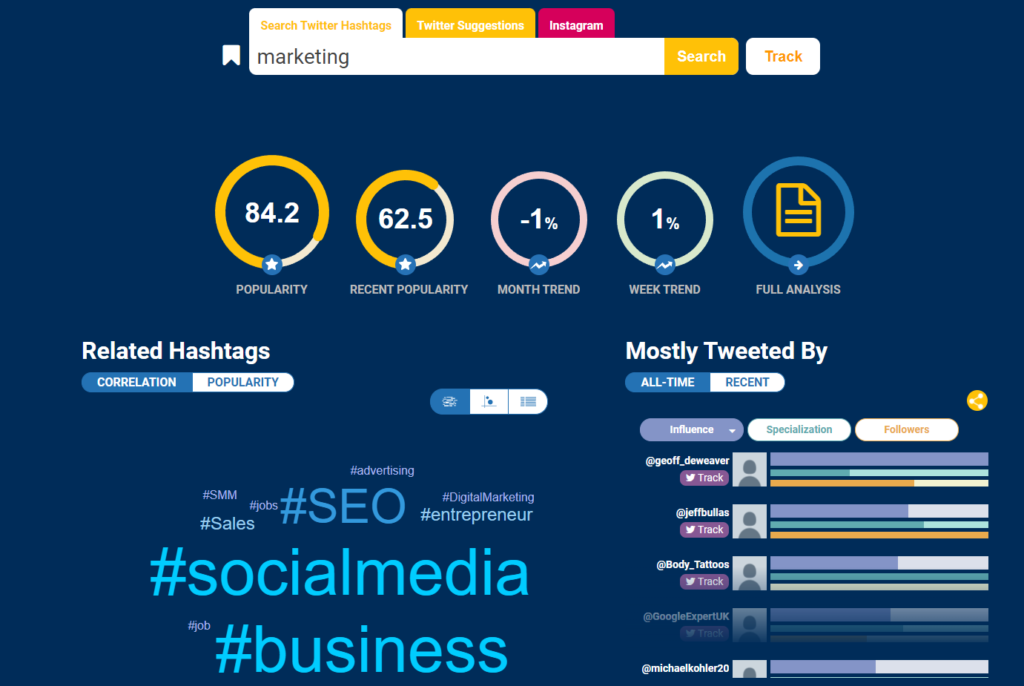 Ritetag
Last on our list is Ritetag that works on a freemium model like Hashtagify. One of its greatest advantages is the recommendation engine that can give you tons of good ideas for hashtags that are related to your search. But while this is quite handy indeed, what sets it apart from the competition is that it will list Instagram tags as well. You won't find statistics as detailed as the previous options, but you will still get the number of posts, shares, and potential reach.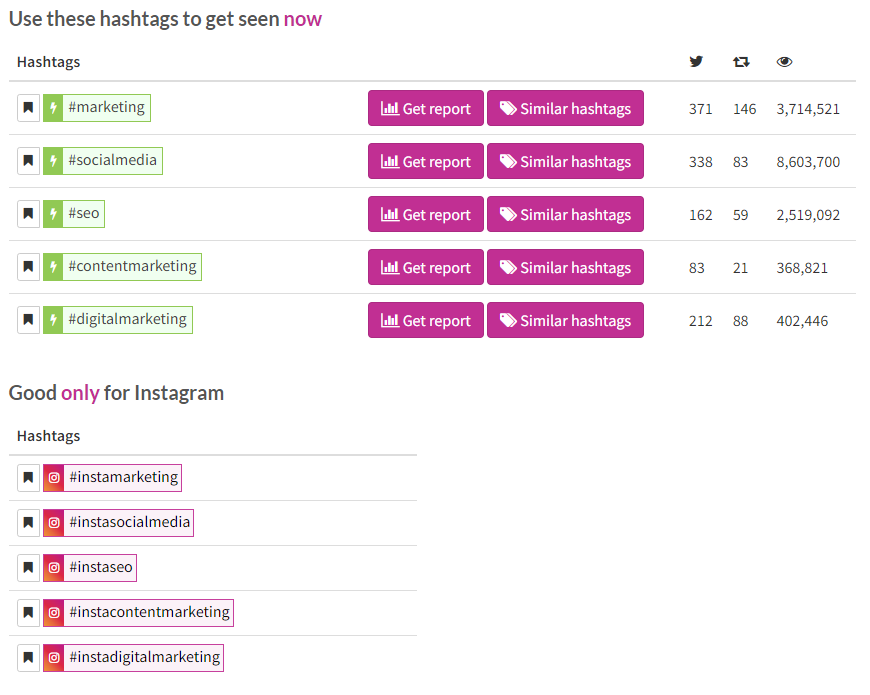 Applying Hashtags to Your Posts
You've done your research and have drafted a list of relevant hashtags for your audience that are less competitive, have great engagement as well as potential reach. What now? It's time to put them into your post, but you will hardly be able to include them all in a particular piece. This begs the age-old question of how many should ultimately make it to publishing.
To find out the answer to this, let's take a closer look at what the data shows. According to Twitter's own research into hashtags, there is a 100% increase in engagement for Tweets that contain than those that do not. These numbers should serve as a good reminder of just how important the use of hashtags can be for reaching your marketing goals.
These numbers should serve as a good reminder of just how important the use of hashtags can be for reaching your marketing goals.

But that's just the start, as findings from Linchpin SEO point us in the right direction, when it comes to the number of hashtags. In their infographic we can discover that using more than two does not necessarily translate into better results. Quite the contrary, as on average there is a 21% higher engagement generated by Tweets that use up to two than those with higher. Additionally, there is a 17% decrease in interaction with those containing three or more.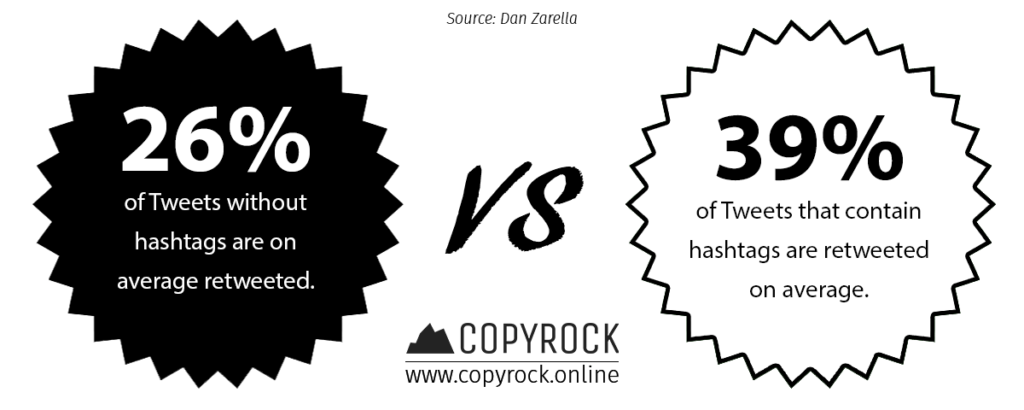 Similar results are reported by Dan Zarella, formerly of Hub Spot. His data uncovered that about 26% of Tweets are retweeted if they contain no hashtags. In comparison those with at least one generate roughly 39% of shares ratio. This further solidifies the case for hashtags, as a great tool to achieve more engagement than just using barebones posting.
Bringing It All Together
Armed with the insight gained from our review you should be ready to begin your journey into hashtags. And as a final lesson, we would like to leave you with the thought that there is no one right way to implement them in your posts. Only you can truly know what the best choices are for your audience and more often than not this is obtained by a lengthy process of trial and error.
Need help finding the relevant hashtags for your business? Let us know in the comments, or drop us a line, so we can get you started.
Supercharge your Inbound Marketing with CopyRock
Build a loyal user base and establish yourself as an authority figure in your industry
Secure a steady flow of immersive and engaging technical content for your audience to love
Pick the topics that matter to you the most and get high-quality academically researched articles for your blog
Gain more organic visibility with SEO-optimised content featuring internal links of your choice
Ready to build? Send us your project brief and start building an audience with CopyRock today:

Originally published on CopyRock Insights.
Also available on Medium.
Also available on Pulse.
Also available on TDA Marketplace.