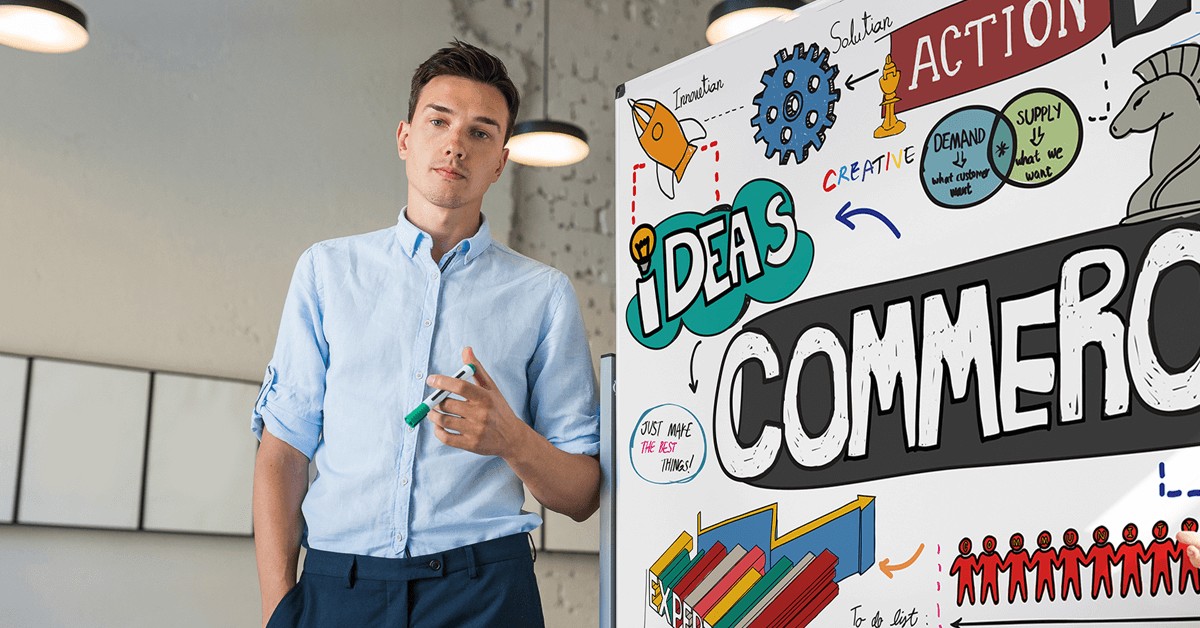 Frugal Marketing Fundamentals to Look Out For
The marketing industry is changing rapidly. There are new strategies, marketing tools, technology, and even ways to research marketing opportunities. With the year 2022 right around the corner businesses all over the world are scrambling to figure out how to cater to the constant flux that is the marketing landscape.
Will the economy be booming, or struggling to recover?
What will happen with martech?
Will advanced tools like AI and advanced chatbots be commonplace?
Will influencer marketing gain even more footing in our daily lives?
While few can answer such questions with utmost certainty, there is one constant that remains assured – change. Don't let its pressure come knocking at your door and catch you unprepared. Get to know some frugal fundamentals that will keep you moving forward throughout the year and beyond.
Content Marketing as a Driving Force for Product Discovery
Let's start with some positive news. Even after decades of relentless marketing bombardment, consumers are still somehow interested in learning about your products and services. The catch? They just prefer to do it via content rather than by means of advertising.
On one hand, this sets a huge precedent for the importance of product discoverability in both B2B and B2C relationships. On the other, it indicates a clear paradigm shift that puts the customer at the centre of decision-making.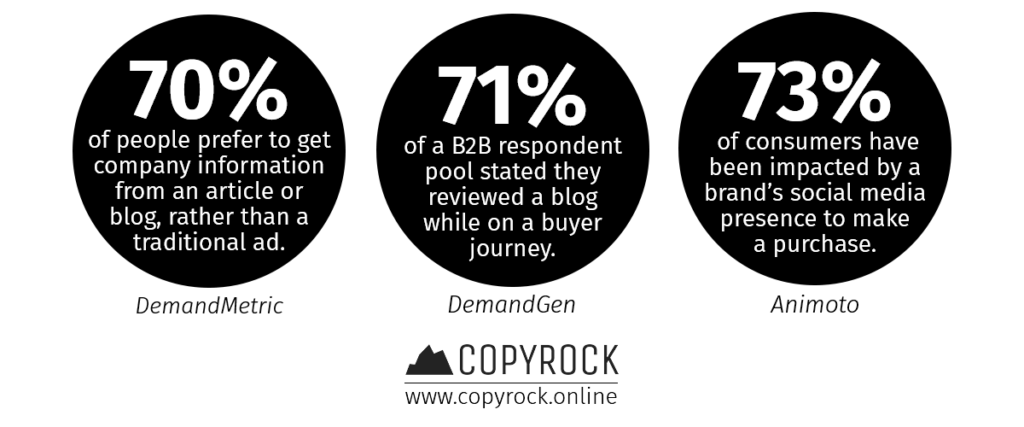 Simply put, this means the game is no longer about pushing the consumer towards action. Rather, it is becoming more about attracting them through influence instead. This presents a significant challenge for traditionalists that will need to face it and adapt, or pay the ultimate price.
That is why content marketing and social media are so vital for marketing success nowadays. The former fosters authority, while the latter reinforces its impact through effective distribution and direct communication. They are the two sides of the same coin that represents the "pull" approach.
Meeting Consumer Content Expectations
Leveraging content to build healthy relationships with your customers, as a means to attract is no easy task, however. Considering the overwhelming noise generated from the global business landscape, competition is fierce and this should come as no surprise. But this also raises the bar for consumer expectations significantly and in doing so leaves many hanging, unable to comply.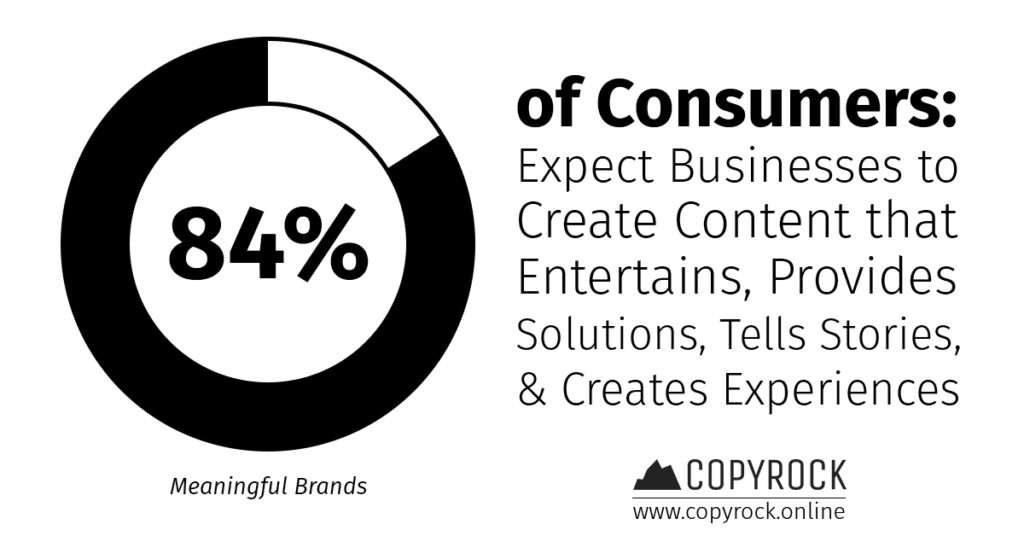 Long gone are the times when you can just create content just for the sake of creating content. You just can't get away with it and be successful in the end anymore. Quite the contrary, as a content creator you really do need to tick all the boxes. You really do need to deliver a jack-of-all-trades content that excels in every way.
Is that even remotely possible? Yes and no. Yes, it surely is possible to cover at least some of the expectations in a single post. But so is meeting all of them over several pieces as part of an overarching strategy. So, breathe a sigh of relief knowing that creating a transcendent content panacea is hardly the end goal here.
Content Marketing for Search and Users Alike
Still, even if you don't need to be perfect with each submission, the opposite is hardly an option either. The fact of the matter is that while search engines favour lengthy texts, so do users, seeking comprehensive takes.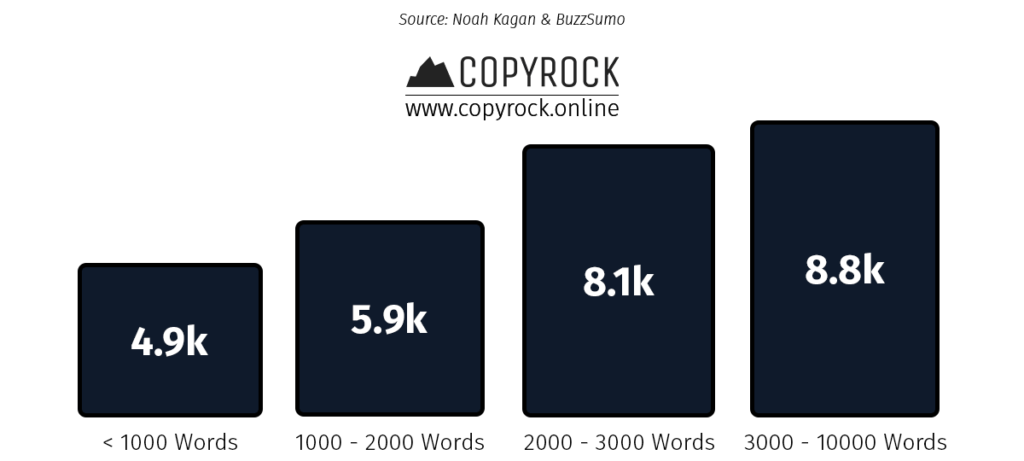 And the compounding impact of these factors does show. Not only in terms of search engine rankings but the number of shares just as well. More so, they are further reinforced by another perhaps unintended aspect mentioned earlier – noise.
This is so because, at the end of the day, the large majority of content is predominantly short-form. Few are capable of delivering exhaustive pieces on a regular basis, which creates a significant vacuum. A vacuum that begets demand of similar proportions.
In turn, this highlights an incredible opportunity to stand out from the competition. And by going the extra mile with valuable and scarce content is exactly how you leverage it to your advantage.
Approaching Content Enrichment
Even so, it is vital to remember that length in itself is not the sole content marketing differentiator. Rather, what it does best is to extend your opportunities for optimization. Long-form content necessitates better structuring and visual support to be readable. But even if that sounds like a con at first glance that is hardly so. The reality is that all the extra effort will ultimately go towards the value generation of your content.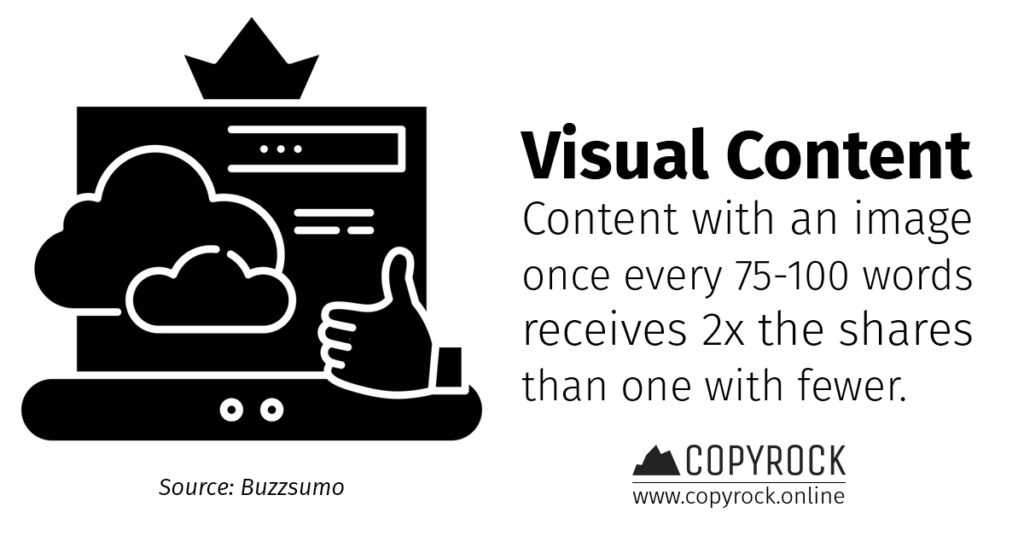 Having a higher number of headings and images to break the walls of text is a great way to enrich your posts. After all, it bestows further context to support them. Not only that but in doing so you are also making your content much more skimmable, which improves the user experience. This effectively increases the Average Time Spent on a particular page. And that begets a steady boon to both its ranking factors and its shareability.
At the same, the additional elements introduced as support into a content piece allow for further keyword optimization. That's excluding their direct paragraph placement. The more opportunities you have to place them inside image alts, headings, and hyperlink anchors, the more comprehensive set of ranking factors will you be able to cover effectively.
Perceiving Authenticity in Content Marketing
Be that as it may, you can still fall short of achieving your content marketing objectives, should you forget the most important factor of them all – your audience. Ultimately, content's main goal is to provide value to your customers. And while it is easy to brush this aside, as "of course, it provides value," chances are it does not.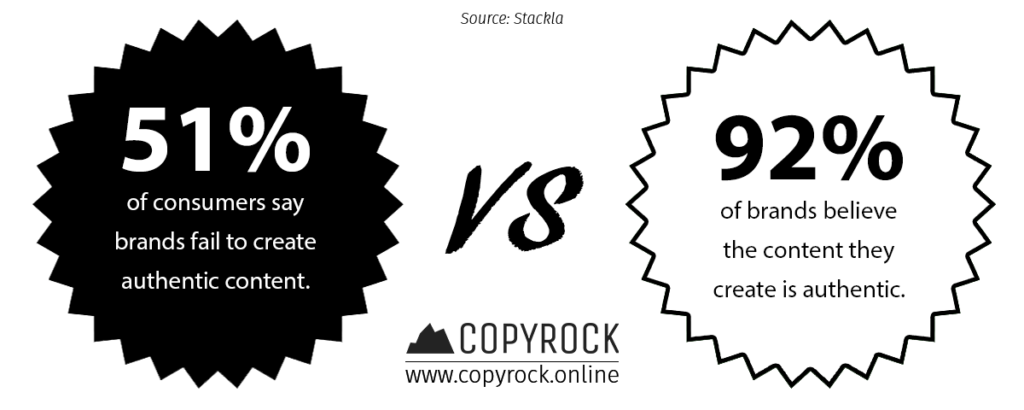 In spite of many businesses' best intentions and passion for what they publish, there seems to be a staggering rift between what they perceive as authentic content and what consumers do. And while it is clear that authenticity is hardly an exact science, thus a likely culprit behind the disparity, there is more to it than that.
But funny enough, the truth instantly reveals itself the moment you put it to the test. Take a moment to examine the next content piece that resonates with you. How relevant is it to your needs? Does it provide applicable solutions for your woes? Is it aesthetically pleasing and readable? But most importantly does it feel like it is trying to sell you something?
Fostering Social Proof with Influencer Marketing
Reading between the lines of the questions above, we can really get to the bottom of what makes content authentic. Your audience is generally quite exhausted from the barrage of irrelevant marketing messages they have to endure daily. In turn, this makes them apprehensive to any partial entity that bears financial interest in communication. And who could blame them?
So, instead of taking the usual promotional route to reach your customers, try to find a way around it. When you focus less on selling and more on helping is when you also start building client trust. This is called social proof. It is the secret sauce of influencers and how they manage to break down the barriers of communication most businesses regularly face. It is with its help that content creators establish themselves as a neutral trustworthy source in the eyes of the consumer. They become an authoritative figure.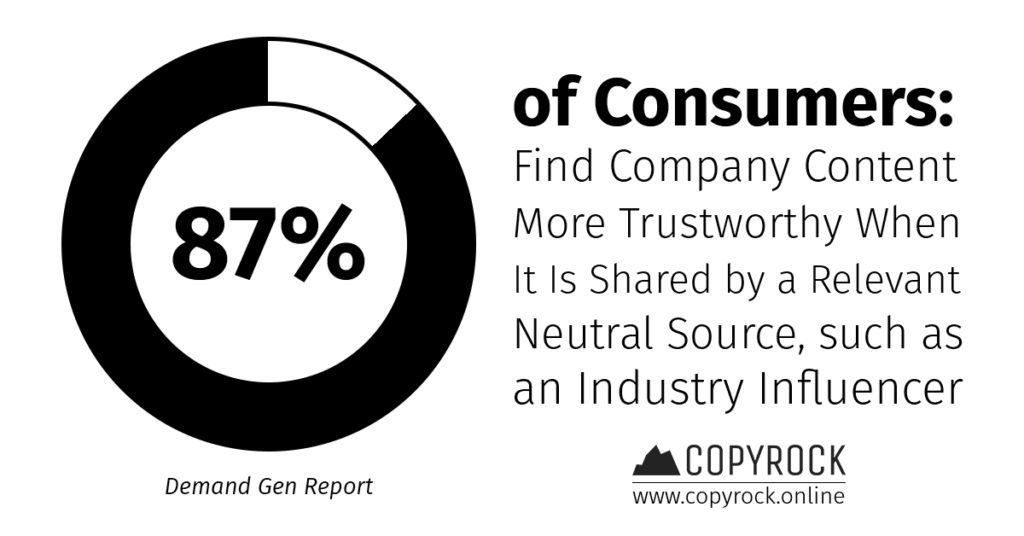 Fortunately, businesses can nowadays leverage this "magic glue" that binds influencers to the hearts and minds of the consumers. By having a content creator distribute branded content for them instead, companies can effectively pivot around their inorganic selves.
In doing so, they are able to connect on a more personal level with customers, even if by proxy. And while doing this once can certainly be of help, it is the compounding effects from both influencers and happy shoppers alike that really get the snowball rolling. Textbook word-of-mouth.
Email Marketing as Constant Everlasting
Despite the relatively novel means of connecting with customers examined so far, a timeless classic still remains. The mere disregard of it is sinful, for it is no other than the work-horse powerhouse of email marketing.
If there is but one constant in the endless flux of marketing, it would be the stalwart record of the email ROI. It is a priceless instrument in a marketer's kit , which few dare to ignore, lest they pay a hefty price.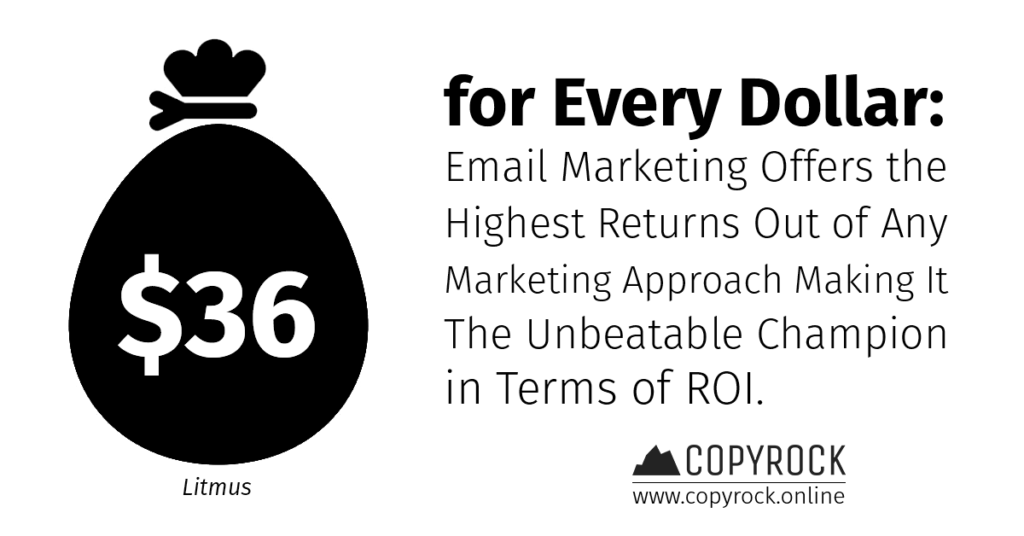 Being able to deliver such outstanding results consistently and over the course of decades even is hardly a fluke, however. Email is one of the few remaining ways to engage with consumers at their own pace. Messages do not intrude on a user's schedule as a phone call does. Quite the contrary – they just sit patient, safely in their inbox, waiting for when the time to read them ultimately comes.
But email marketing goes even further than that. Taking a closer look at the medium shows a certain resemblance it bears to the microblogging Twitter pioneered. After all, it does favour concise highlights that distil the message of a business straight to its essentials.
And in a way, newsletters are more successful than social media in their most defining feature – the newsfeed. The reality is that social failed to harness the chaos of the feed, despite the constant algorithmic changes. In contrast, however, email finds no difficulty in filtering and curating the contents of your inbox. More so it masterfully turns them into personalised pieces that are easy to digest.
Driving Open Rates with Email Marketing Personalisation
It is exactly this possibility for personalization that has placed email marketing in the hearts and minds of the consumer. Not only is it easy to manage, but also creates a highly personal connection with the recipient. Even content marketing that is known for its relatability falls short of the simple yet powerful address that "Hi John" really is.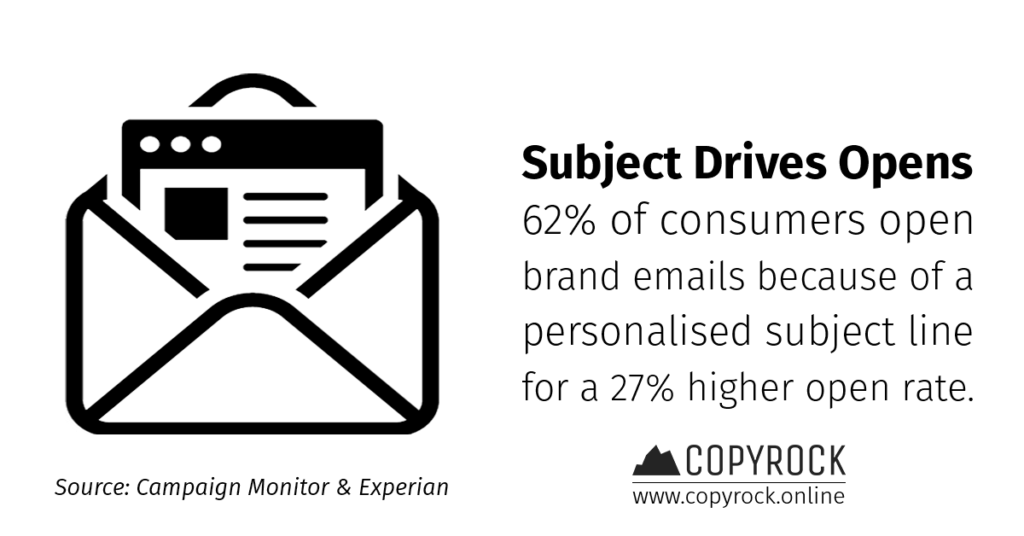 Even so, the personal address that we all know and love is hardly the first thing we see in an email nowadays. Quite the contrary! Before we even click to open, we are met with another impactful means of personalization – the subject line. More so, it is often the primary reason for our decision to open in the first place. This is what defines enticing subject lines as real works of craftsmanship.
Let's return to the microblogging comparison we made earlier. While such appraisal does ring true for email in general, it rings even truer for the subject line. It wouldn't be appropriate to call it micro, however, but rather a nanoblogging medium, considering the stricter limitations. Even so, its goal of isolating the essential into a brief but powerful tagline still remains.
It is no wonder the majority of consumers highlight it as a principal factor in determining their course of action. Seize this opportunity – be bold and draft a truly memorable subject line, when the email calls. Make your readers think twice before ignoring it.
Bringing It All Together
With this, our journey through the halls of marketing has come full circle. From the timeless classic that is email to the cutting-edge approaches that are content and influencer marketing. The turbulent digital landscape should no longer seem as such. Rather, it has become a textbook case of order out of chaos.
It is true, there are still plenty of stones left unturned, each bearing their own little sets of esoteric knowledge. Nonetheless, we are grateful to have shed some light on the inner workings that drive things forward.
If there is but one takeaway for us to leave you with right now, it would be to put your clients at the centre. The truth is all the fundamentals in this overview stem from the exact same place – an exceptional user experience.
So, leave the overbearing sales pitches in the past. Start making content that will get you giddy if you were on the other end. And remember:
"Don't do unto others what you don't want done unto you."

― Confucius
Supercharge your Inbound Marketing with CopyRock
Build a loyal user base and establish yourself as an authority figure in your industry
Secure a steady flow of immersive and engaging technical content for your audience to love
Pick the topics that matter to you the most and get high-quality academically researched articles for your blog
Gain more organic visibility with SEO-optimised content featuring internal links of your choice
Ready to build? Send us your project brief and start building an audience with CopyRock today:

Originally published on CopyRock Insights.
Featured on TDA Marketplace.
Also available on Medium.
Also available on Pulse.