Creating Authentic Content: How to Stand Out from the Noise
Nowadays, the latest buzz around content marketing is not so much as to how to use it to your advantage, but rather how to make authentic content and differentiate it. Considering that the times when businesses were doing something different just by having content marketing are far away behind us, this should come as no surprise.
So how can you create content that stands out? How can you as a brand separate yourself from the chaff? The secret lies in authenticity, or to be more specific – creating content that is relevant, personalised to your audience's needs, and provides value by helping solve their challenges.
Why is that you are likely wondering. But to answer this question let's first take a closer look at some relevant market research on the topic:
Understanding the Value of Authentic Content for Consumers
Before we move forward, it is important to bust a particular myth that content is a spammy means of filling space and just a decent way to boost your SEO. The reality couldn't be further from the truth, as consumers can find plenty of value in content pieces, but only if there is one to be had in the first place.
Digging into the numbers, nearly three-quarters, or 70% of consumers to be exact want to learn about your company's products and services, according to MDG Advertising's findings. They only ask you to do it through content, rather than traditional advertising. But how come?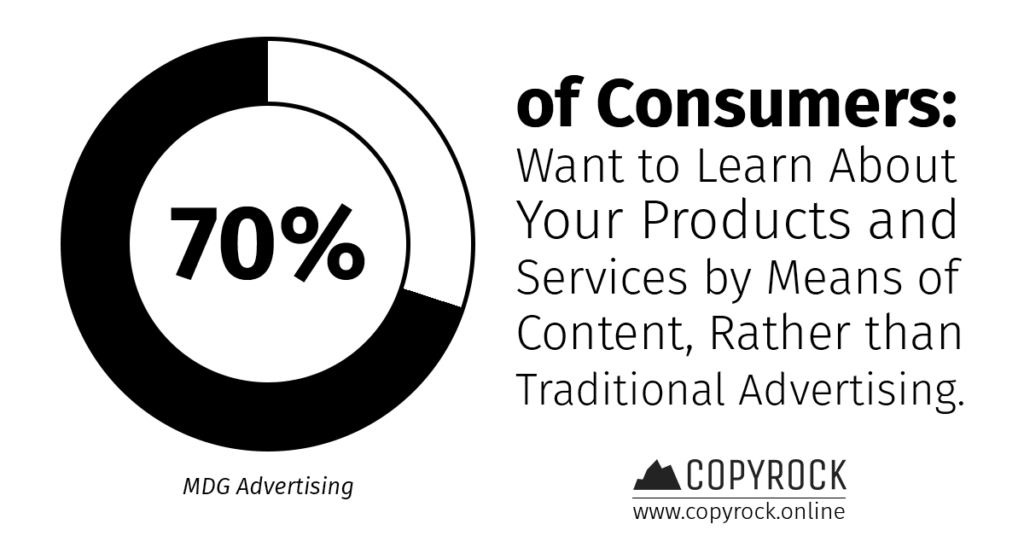 The reason for this is in the difference in approach between the two. While ads tend to be intrusive and break the natural user experience, content does not. On the contrary, it blends with native content, regardless of the platform, and presents an opportunity to approach your customers on their own grounds, when they wish to.
What is Valuable Content for Consumers?
So now that you know what value consumers find in reading your content, it is time to get a better understanding of what is exactly deemed as "valuable content." To do that, we just have to take a look at another study on the topic, this time by Meaningful Brands.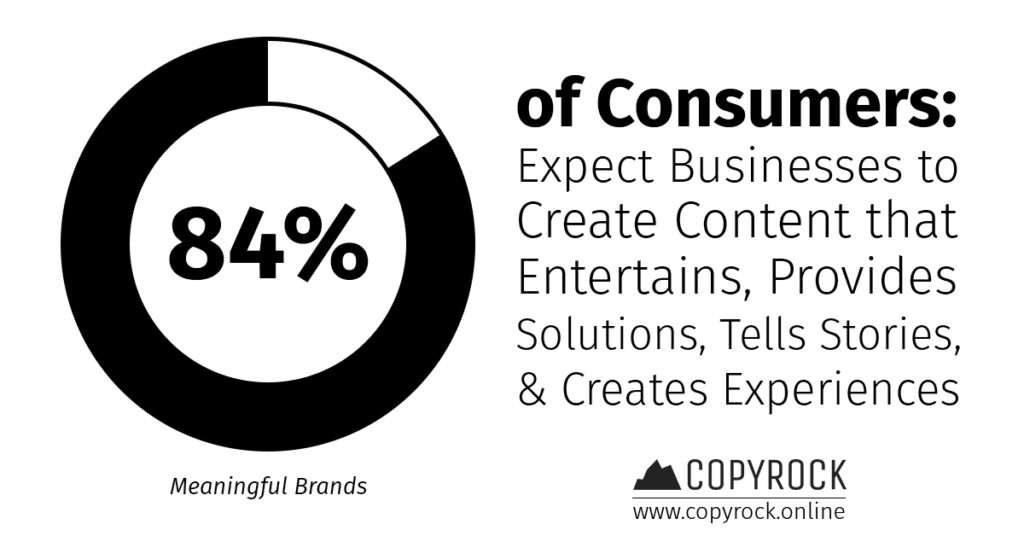 In their research, we will find an absolutely vital stat for any content marketer – what customers expect from businesses when it comes to content. And surprise, surprise, the list is quite the mouthful, as 84% of consumers expect businesses to create entertaining content that provides solutions, tells stories and creates experiences.
Naturally reading this particular stat can create a feeling of being overwhelmed, but that's okay! The reason you are experiencing this is because there are just so many ways to approach this challenge. Don't set out on a journey to tick all the boxes with each piece from the start. Instead, start by focusing on providing solutions then build upon that by making it entertaining and put the cherry on top by turning it into a story.
Is Your Content Really Authentic?
If you are asking yourself this question, chances are it is not. Despite your best intentions and love for your own content, there seems to be a great divide in perception when it comes to content authenticity. This hypothesis is confirmed by research data from Stackla, which shows an almost double difference between the number of consumers and companies that state businesses create authentic content.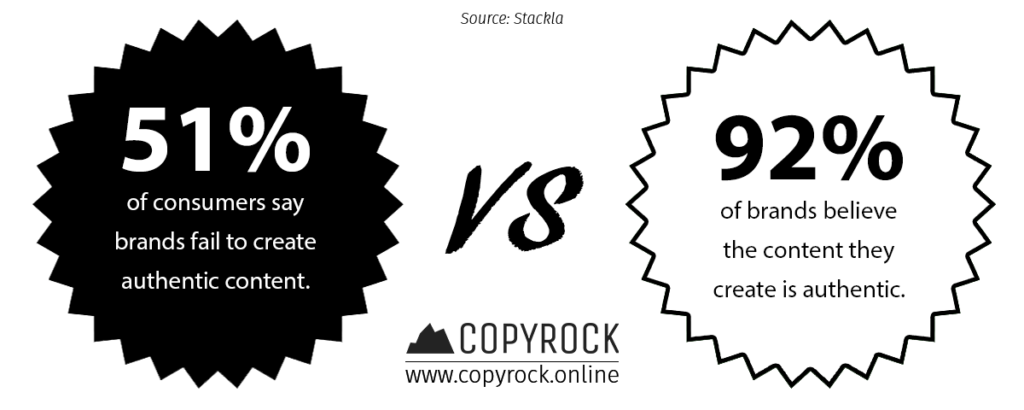 This begs the question of estimating content authenticity on a case-by-case basis. While there is no exact science for this, you can hardly do wrong by checking your customer data, specifically engagement. Do you get a large number of shares in comparison to impressions? Do your customers often reshare your content as expert insight? Does the entirety of your content get read instead of just a quick skim?
By answering these questions, you can start getting valuable feedback to improve your content marketing. And if you're interested in walking the extra mile measuring this, we have something extra for you. Why not start each new content piece by planning it around a specific customer challenge and then giving the final draft to a neutral party prior to publishing?
Why Most Businesses Do Poorly When Creating Authentic Content?
Apart from not following the guidelines we have set out earlier in this article, there tends to be one specific meta reason for this. Findings from research conducted by the Content Marketing Institute, show us that the large majority of content marketers prioritise their sales message when writing content.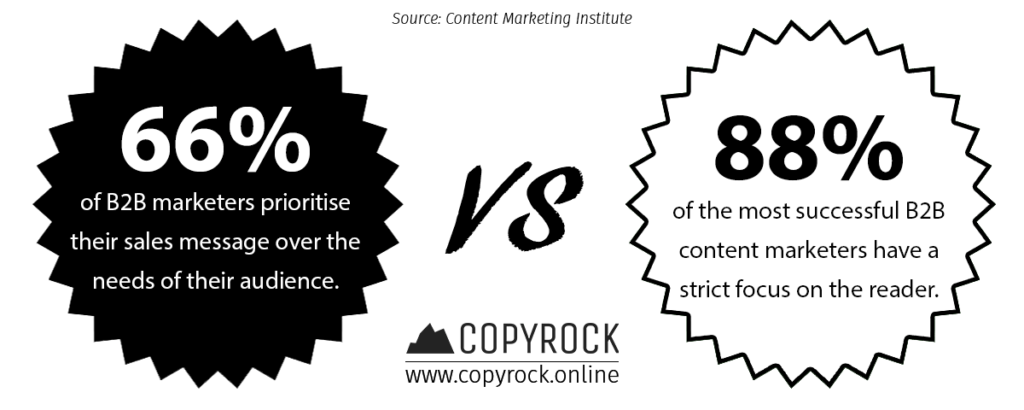 And this is exactly the meta reason they are doing it all wrong. Content shouldn't be about your product, or service and how great it is, but rather how you can help your customers solve their challenges. That is why it should come as no surprise to find that 88% of top-performing content marketers have a strict focus on just that — their audience and their woes.
So, here's a challenge for you! Go out there and start evaluating your published content pieces. You don't need to do anything complex, or comprehensive. Just a yes or no answer would suffice. And the question you should be asking is "Does this content piece focus on the sales message or on the audience?" You can even remove the paragraphs that talk about your product, or service to make things easier.
How to Reinforce Content Authenticity?
Before we close the curtains, it is important to note one final insight on creating authentic content. While the bigger share of improvements when it comes to a particular piece were already listed, we didn't have the chance to discuss how to approach this with your content distribution.
To do this, you need to take a closer look at influencer marketing and be prepared to spend a few bucks on running such campaigns. When the majority of brands are out there broadcasting their messages and bombarding users on a regular basis, it is easy to have them overwhelmed. This is a huge turn-off for many, which is why they turn to influencers for a less-biased perspective.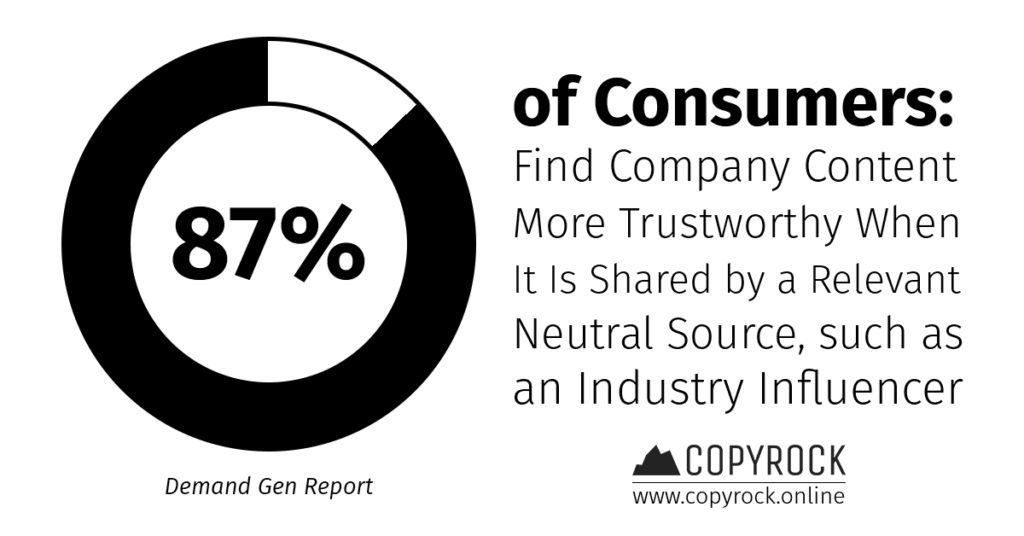 This creates an extraordinary opportunity for you to reinforce your content's authenticity. Why? Because nearly 87% of consumers find influencer content more trustworthy than that of a particular business, according to research by Demand Gen Report. So, if you are looking for a quick and easy shortcut, look no further than implementing influencer marketing as a regular addition to your stack.
And if you are interested in learning more about influencer marketing and the social proof it creates, we already have an in-depth review of how all of this plays along. Find it here: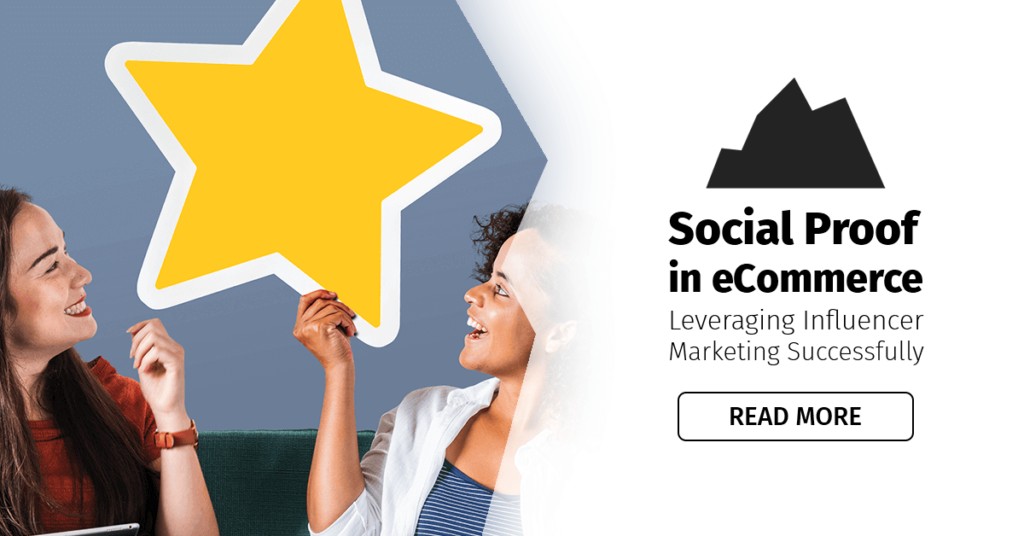 So now that you have a good foundational understanding of how to create authentic content are you ready to take the next steps for your organisation? Let us know in the comments, or drop us a line, so we can help you kickstart the process.
Supercharge your Inbound Marketing with CopyRock
Build a loyal user base and establish yourself as an authority figure in your industry
Secure a steady flow of immersive and engaging technical content for your audience to love
Pick the topics that matter to you the most and get high-quality academically researched articles for your blog
Gain more organic visibility with SEO-optimised content featuring internal links of your choice
Ready to build? Send us your project brief and start building an audience with CopyRock today:

Originally published on CopyRock Insights.
Also available on Medium.
Also available on Pulse.
Also available on TDA Marketplace.